---
We are experts in managing international interests related to the trotter in France:

racing and breeding horses for harness racing
purchasing or selling:
* french, european or standardbred horses
* live breeding or frozen semen of several of the greatest trotting sires
* driver and horse's equipment
* media and official publications
promoting your sires, farm and track events
mating consultations
obtain the services of a driver
choose a trainer
find a place to board your broodmares and yearlings, ...
(We have also developed good partnerships with many connections in the French
thoroughbred
industry
including farms managers, trainers and bloodstock agents.)




I.T.S. is the consultant or manager in France for international owners, breeders, or trainers as:
For more than 10 years



and also






Ecurie Patrick DAVIDSON




I.D.
Oppdrettet




and many other owners and breeders with sometimes just 1 racehorse or broodmare in France / Europe.
---
ITS
will be present to the
all sales
in France:
*
Arqana Trot
at Cabourg, Caen, Deauville & Vincennes (
website
)
*
Association des Eleveurs Normands
at Caen (
website
)
*
Association des Eleveurs de Trot du Centre-Est
at Magny-Cours (
website
)
*
Osarus Trot
at Argentan & Vincennes (
website
)
Please note that when I.T.S. represent buyers at auctions in France, the sale commission is paid only by sales agencies from sellers, not by the buyer, according the established rules.
and our international partners
are present in many sales in Europe & North America
in Denmark (
website
), in Finland (
website
), in Italy (
website
), in Sweden (
A.S.V.T
sales,
Kolgjini
sales,
Sweden International Yearling
sales), in The Netherlands (
website
), in U.S.A. (
website
).
foxyform

Christian Le Barbey

+ 33 6 13 11 32 80 (same for WhatsApp)

webcontact@its-trot.com

Haras Dubelair - 61600 Lonlay Le Tesson - France


Fax + 33 (0)9 70 62 31 71

christis

and also from www.facebook.com/ITSInternationalTrotServices or TWITTER
back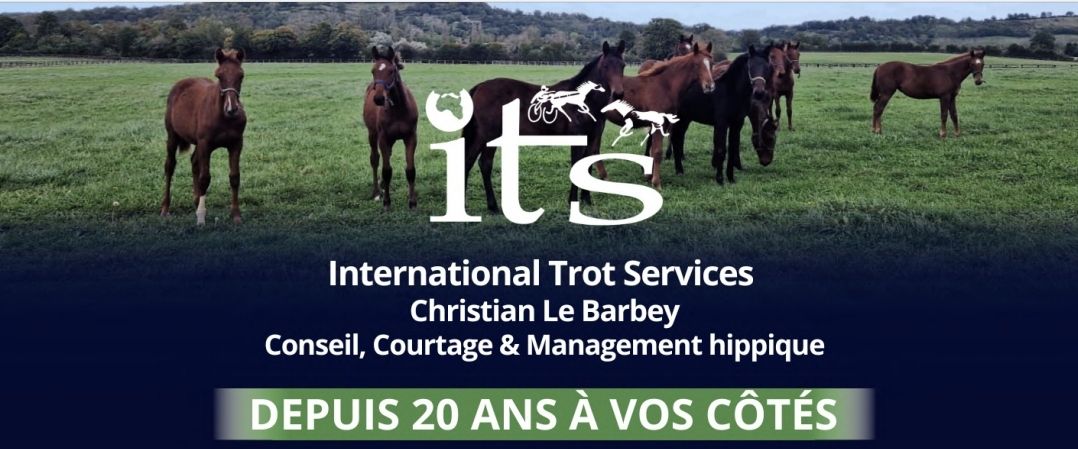 retour
---


Copyright © I.T.S. / I.T.S. media 2003 - 2018 ~ logo: Hanne E Lynne ~ Tous droits réservés - All rights reserved.